"... as jy twee keer meer vis wil vang, vang met MaGic. Vang met OUKOUS (Onion) Floaties"
My Feeder Angling Experience Part 1 by Jacques Benadie
My Feeder Angling Experience By Jacques Benadie
In 2012 somewhere in August, a good old friend invited me to his provincial angling development day. This day was arranged to show people the conventional type of angling.
Various provincial top anglers gave demonstrations on the basics like traces, how to make dips, how to make certain types of baits and, show their setup, with their muti-boxes and stands.
There was a marked area where anglers could test their ability to cast distance. Anglers were given tips and secrets on how to improve their casting. It is then when I walked past this funny setup from these two blokes. The one guy was an old school mate of mine. This was the feeder stand where all about this weird but so very interesting method was explained. These two guys were showing and explaining the feeder angling. They even had a fish tank with water in to show us what happens when the feeder basket falls into the water.
The moment I saw this I told my good mate Andries, this is for me! It was a brilliant facet that actually made real sense to me.
The demonstration on ground feed for feeder angling vs conventional angling ground feed

After this day I had joined an angling club together with my friend Andries and started angling again after many years. A few months later I changed from one club to another and after some leagues and trials I was selected for the North east Mpumalanga conventional bank angling provincial team.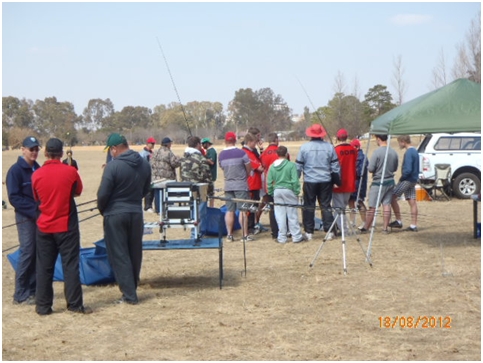 The feeder stall that got me curious to feeder angling

In this period I had met a guy that made the difference in my whole angling world. He was a man named Michael Cato, the owner of magic baits. I used his products and later I was amazed by the results. Michael then started to be my sponsor in bank angling. I started exceeding all my expectations I had when I just joined the first club. I exceeded all expectations I had in mind as it only took me four months to be selected for the provincial team. My first senior division South African National championship at Bloemhof dam. Before this I had not really fished for fifteen years.
I then was approached often by Jaco, the old school friend and now a national feeder angler, one of the first in our country to start feeder fishing. Appointment was made but having a very busy schedule at work on both parties' sides this did not realise until recently. They say all in good time……and now were the time. Word was out and the go ahead was given from the National bank angling federation that the first South African National feeder championship will be held in October 2013. With this in mind Jaco hooked me up with a friend and also the Protea feeder angling team coach called Gys. This guy saw a gap in the market as a genuine seat box and platform from various brand names could set you back quite a lot of money, Almost enough money to buy a student a small car. Gys started manufacturing a decent and practical seat box and platform at a fraction of a price which was very sturdy and extremely practical. Not more was needed and I bought my first feeder angling setup.
Luckily I had asked Michael in advance to do some research for us on what ground feed we needed to have. He then made me a twenty Kilogram "sample" to test. Both of us never really had anything to do or had the exposure of this new type of angling in our country. The Friday afternoon my next door neighbour was in the area of Michael's factory, and he collected the ground feed for us.
Now that I have the seat box and platform I was more than halfway there! Jaco donated one of his old seven foot sensation rods to me.  According to my experience the correct feeder rod is the most essential and important part of feeder angling. This is the backbone of your equipment. You can still get away with a cheapish reel, but the rod is of outmost importance.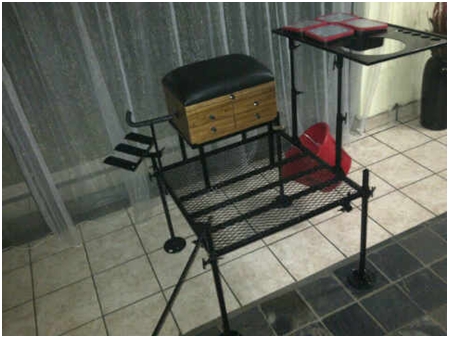 My feeder seat box and platform
Jaco gave me a lot of support and motivation. All of a sudden we had both this Saturday free. I arranged with a friend of mine who had a farm with three dams on the same morning to go and get the basics under the knee. Off to the farm we arrived, everything was unpacked, most of the gadgets new to me. Never heard of a "wisk" nor a "riddle" in my whole entire life. I was fortunate enough to have a Wisk made by Gys that I had bought with my feeder setup from Gys two days earlier. Having a technical back ground I luckily had remembered the battery operated drill that is needed to mix the feed with my Wisk.
My first feeder angling training session with Jaco
Al this happening in just three days…..
I was shown the A-Z by Jaco. Our time was limited and we only had four hours, this day I only sat on the seat box for two hours to get to the feel. One of the most important lessons of this day was the importance of casting all the feeders and bait to exactly the same place. The more accurate you are the best the catch will be.
I had less than four hours to know all of this! Next weekend Sunday is the provincial trials.
Luck at least turned my way, as I had this week off. In this week I managed to get all the last bits and pieces I needed to complete my entire rig. Feeders, hook lines, quick change beads and feeder beaded swivels were bought. Also a special landing and keep net was bought. 
I have now the complete rig. With a connection from a friend of a friend I managed to get permission to go and fish in the waters in the dam of the Zonder Water Prison dam where the trials will be held on the Sunday to come.
I got to the dam and what a lovely looking dam. Not very big though but really well kept and maintained. I can see that here is a lot of fish! I spent this morning a lot of attention to detail, detailing and making sure I have every bit under the knee….just like Jaco had shown me the weekend before.
After about an hour and a half I was only ready to fish. My first cast was with a normal Koo mealy from the can on the spot I had thrown feed at about 40 meters on my line clip.
No cigar!  I then added a worm with the mealy, no cigar. I kept trying. I then spoke to a local that said to me the fish like anything with Wintergreen or Vicks flavours.
I then took one of my favourite Magic bait Bomb dips, threw some mealy pips from the can into a small bottle and threw some FBi Bomb dip with these pips. Less than four minutes I was on with a fish…but not being used to the soft rod action and small little hooks I lost the fish. Being well spirited I did exactly the same again, not three minutes past and my reel went crazy again! This time I recalled what I was taught in "class" and landed my first feeder angling Carp. From there I caught another 5 or so and it went all quiet. I then saw that   the bites were down a bit. I then went for the Magic Baits Monster Carp pips which I had cut in half and hooked both halves on my hook. Not long again I was on with a fish, this time the carp was so aggressive it had run of my hook line.  I put a new hook line on and casted again to my feeding spot at 40 meters. Not long I had the next fellow on the line. After landing this fish and casting again, I sat without a bite for quite some time. I saw something real strange.
We as anglers often make a test Bomb of ground bait and throw it in the shallow water to see if the ground feed dissolves correctly. I had thrown two or three of these into the water in front of me to check how the bomb reacts in water and how the partials of feed come off.
The fish were literally feeding on these testers of mine three meters from the bank in the shallow water. I immediately took out my rod, re-baited with those FBi pips I had made and casted literally now on five meters. I was still setting up the rod when I saw some aggressive bumps at the feeder cage. As soon as I loosened the braking system of the reel the reel went crazy in my hand!!!!!  I then continued angling on 5 and 13 meters the rest of the day until it was time to pack up and go home, I had a total of about 20 fish caught for the day!!! My first successful day on the seat box! I felt open hearted and comfortable with the trials to come on the coming Sunday
(To be continued ...)