"Ek is so bly ek het julle gevind."
My Feeder Angling Experience Part 2 by Jacques Benadie
(... Continued)
The Sunday of the trials.
The night I could hardly sleep and was up early the morning. Being the character of mentor and teacher Jaco is; he was in charge of the day together with Chris.
Jaco and Chris are both wearing the Green and Gold jackets with South Africa written at the back, being old hands at feeder angling. For Feeder Angling being new it was unsure on what the turn up would be….. The turn up and interest was great, most people who had turned up did not even have the equipment or gear. No one was turned down or turned away. Chris and Jaco gave lectures from the beginning to the end. This now also turned into a feeder angling development day. With all the lectures and demonstrations we only started fishing at 10h00. The aim of the day was twisted to the better and a higher goal was achieved than what was anticipated before.
Chris and Jaco both had spare sets of platforms, seat boxes, rods and reels that they had made available for the others; even then they still had to take turns. I offered two people my seat box also to give them a chance to fish. There after I started fishing, I only managed to catch one carp on my feeding spot.
Then the very same thing happened again as the previous Friday. I saw the fish on 5 to 6 meters in front of me feeding on the test mealy bomb I had previously thrown in the water. I immediately, without drawing to much attention took out my rod from the forty meter mark and casted it less than ten meters. Only this time I had put a slight bit of green and a bit of white fluorescein in my bomb and rounded it off with MZ Bomb dip that I had mixed into my bomb (all of these I got from Magic baits). I hooked a tried and trusted FBi bottled mealy pip from my bottle and I now casted the rod about 10 meters slightly to my right hand side from my platform. This rod was left alone; I did not want to scare the fish with any movement here in the shallow water while they are feeding.
Nine minutes later without any bite indication my reel started running and I landed my first fish here caught from the shallow water in front of me. I placed the fish in the net, re-baited and then I casted to my 40 meter feeding spot. I deliberately did this as the other anglers were not catching any fish and all eyes were on me. I waited a bit and after about 5 minutes or so all of the fellow anglers were now again relaxed and at ease. I took out my rod, re-baited and casted to the same spot I had just caught the previous fish. Not long and the very same reaction, the fish were very aggressive on the feed in the shallow water. My reel had run like crazy! I carried on with this pattern until we stopped at 15h00. I managed to land 5 fish under the fellow angler's noses. This was the bag of fish with the most fish in and obviously the heaviest bag for the day also.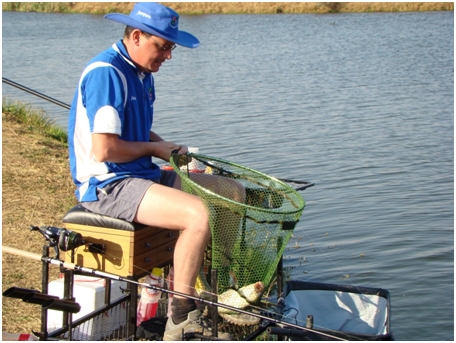 The one of few carps caught under the noses of my fellow anglers
Anther fish on the line….
This is my lesson learned: Pay attention to detail and learn to read the waters you fish in.
A special thanks to my school mate Jaco for showing me and intruding me to this new facet of angling, and then, Michael from Magic Baits, your sponsorship has helped me in unbelievable ways, your dedication and commitment you put in us anglers. Your believe in me and your effort and research you have done when I had approached you for help in a new facet of angling.